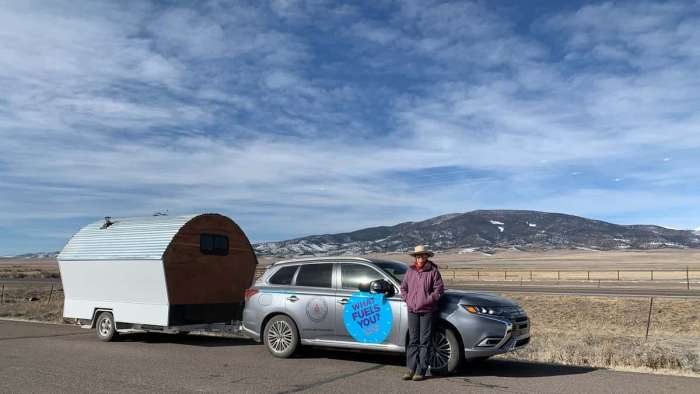 Mitsubishi has sponsored a miniseries that showcases one woman's cross-country journey in an Outlander plug-in hybrid-electric vehicle while towing her tiny house trailer.
A new miniseries sponsored by Mitsubishi tracks altruist and documentary filmmaker Erika Gilsdorf's year-long trek across America. During the trip, Ms. Gilsdorf stops to meet with and learn from hard-working, change-making small business owners. The series also showcases how versatile the Outlander plug-in hybrid-electric vehicle (PHEV) can be for green vehicle advocates and owners who need to travel long distances while towing.
Mitsubishi Motors applauds those who aren't afraid to pursue their own path," said Mark Chaffin, Chief Operating Officer, MMNA. "Erika Gilsdorf is one of those people. Her mission to find and document the stories of other change-makers really resonated with us, and the Outlander PHEV, which blends quiet, efficient EV technology with the capability of an SUV, is the perfect companion for her epic eco-tour. Through our partnership with Emergent Media, we've created a meaningful documentary series that is as inspiring and hopeful as it is unscripted and authentic."
You can watch the first "Soul Pursuits" episode with Dylan Gordon below and learn more about Ms. Gilsdorf's journey, the people she meets, and the Outlander PHEV. The second episode, which follows Trevor and Maddie Gordon, highlights the topic of our carbon footprint and launches on Earth Day.
Source: Torque News