2024 Mitsubishi Eclipse Cross in Scarborough, ON
2024 Mitsubishi Eclipse Cross in Scarborough, ON
The 2024 Mitsubishi Eclipse Cross arrives in Scarborough with a few updates that enhance its appeal. In this article, we will explore the features of the 2024 Mitsubishi Eclipse Cross in Scarborough. Check out why this vehicle is gaining popularity.
Notable Changes from the Previous Year
The 2024 Mitsubishi Eclipse Cross has undergone some significant updates for the new model year. In particular, the SE trim has been enhanced with a range of new features that enhance convenience and comfort. One notable addition is the inclusion of a hands-free power liftgate, allowing drivers to easily access the cargo area even when their hands are full. This feature is handy for those who frequently find themselves with their hands occupied by groceries, luggage, or other items.
Furthermore, the SE trim now comes standard with adaptive cruise control, a technology that automatically adjusts the vehicle's speed to maintain a safe following distance from the car ahead. This feature is beneficial during long highway drives, reducing driver fatigue and enhancing overall safety. Additionally, the SE trim now includes a rear-seat USB port, allowing passengers to charge their devices during the journey conveniently. This feature is a welcome addition, particularly for families or those frequently travelling with multiple passengers.
In an effort to further enhance customer satisfaction, Mitsubishi is now offering a two-year/50,000 km complimentary scheduled maintenance plan with the Eclipse Cross. This plan covers routine maintenance, such as oil changes and tire rotations, ensuring that owners can enjoy worry-free ownership for the first couple of years. This added value is a testament to Mitsubishi's commitment to customer satisfaction and demonstrates the brand's confidence in the reliability of the Eclipse Cross.
Infotainment and Technology Features
The 2024 Mitsubishi Eclipse Cross is equipped with a modern and user-friendly touchscreen infotainment system across all models. The base ES model features a 7.0-inch display, while the higher models come with an 8.0-inch screen. The larger screen size allows for enhanced visibility and ease of use.
One of the key advantages of the 8.0-inch touchscreen is the ability to access popular smartphone integration technologies such as Apple CarPlay and Android Auto. These features allow you to seamlessly connect your compatible smartphone to the infotainment system, giving you easy access to your favourite apps, music, and contacts. With Apple CarPlay and Android Auto, you can make hands-free calls, send and receive messages, and even use voice commands to control your device, allowing for a safer and more convenient driving experience.
In addition to smartphone integration, the 8.0-inch touchscreen also provides access to in-dash navigation. This feature allows you to enjoy turn-by-turn directions and real-time traffic updates directly on the infotainment screen. Whether navigating unfamiliar routes or simply looking for the quickest way to your destination, the in-dash navigation system ensures that you stay on track and easily reach your destination.
Exterior Design
The 2024 Eclipse Cross showcases a sleek and modern exterior design that turns heads on the streets of Scarborough. Daytime running lights and automatic headlights ensure excellent visibility, while integrated turn signal mirrors enhance safety by providing clear indications of your intentions. Power mirrors and heated mirrors add convenience and ensure clear visibility in all weather conditions. Rain-sensing wipers add another level of convenience by automatically activating when moisture is detected on the windshield.
Interior Comfort and Cargo Space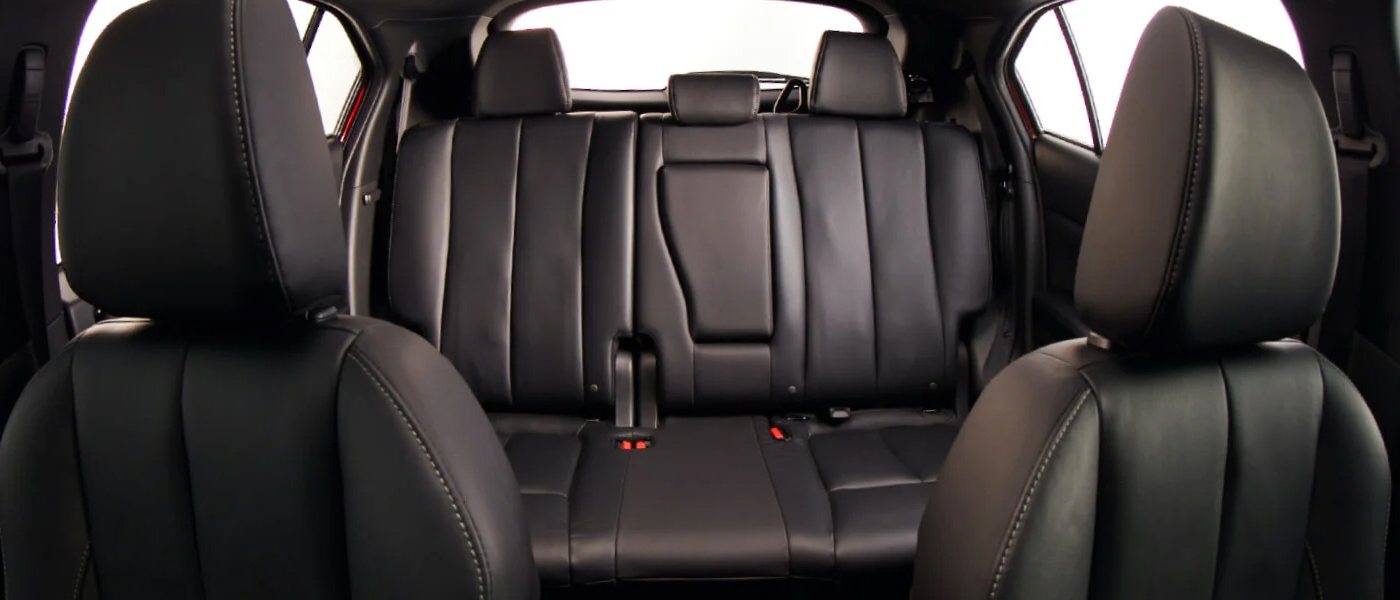 Inside, you will find a comfortable and spacious cabin. The seats are wrapped in stylish and durable fabric, providing both comfort and longevity. The cushioning is more than adequate for long drives. The Eclipse Cross offers enough cargo space to accommodate the needs of a small family, with a cargo volume of 663 litres, providing ample room for groceries, sports equipment, or luggage.
Engine and Performance Features
Powering the 2024 Eclipse Cross is a 1.5-liter intercooled turbo regular unleaded I-4 engine. This engine delivers an impressive 152 horsepower and 184 lb-ft of torque, providing ample power for daily commuting and highway driving. The continuous variable transmission (CVT) ensures smooth and efficient power delivery, while the four-wheel-drive system offers enhanced traction and stability in various road conditions.
Safety and Driver-Assistance Features
The 2024 Eclipse Cross is equipped with a range of safety and driver-assistance features to provide peace of mind on the road. Basic driver-assistance technologies are standard, including automated emergency braking and lane-departure warning. The standard automatic emergency braking system also includes pedestrian detection, adding an extra layer of safety. Additionally, adaptive cruise control is available, allowing for a more relaxed and convenient driving experience.
Trim Comparison Chart
| | | | | |
| --- | --- | --- | --- | --- |
| | ES S-AWC  | SE S-AWC  | SEL S-AWC  | GT S-AWC  |
| MSRP* | $28,998 | $32,498 | $35,298 | $38,098 |
| Lane departure warning | No | No | Yes | Yes |
| Cross-traffic alert | No | Yes | Yes | Yes |
Reserve Yours Today
If you are looking for a stylish and capable crossover, the 2024 Mitsubishi Eclipse Cross in Scarborough, ON, is worth considering. With its notable updates, advanced infotainment features, sleek exterior design, comfortable interior, powerful engine, and comprehensive safety features, the Eclipse Cross offers a well-rounded package for both daily commuting and family adventures. Reserve yours today and experience the thrill of driving the Eclipse Cross.
All pricing is based on Ontario MSRP and does not include taxes and fees. Dealer pricing may differ. Prices are subject to change anytime without notice.
Make an Inquiry
2024 Mitsubishi Eclipse Cross in Scarborough, ON