PARTS DEPARTMENT
Welcome to the Parts Department at Rouge Valley Mitsubishi. Our parts department at Rouge Valley Mitsubishi is stocked with thousands of genuine Mitsubishi parts. Contact parts today or drop by and our knowledgeable Parts Staff will be pleased to help you find the part you're looking for. Only trust genuine Mitsubishi parts on your Mitsubishi vehicle. Our Professional team of experienced Mitsubishi certified parts consultants are here to assist you. Trust your Mitsubishi vehicle to the people who know it best!
GENUINE PARTS AND ACCESSORIES FROM ROUGE VALLEY MITSUBISHI
We can help you make your Mitsubishi exactly the way you want it by supplying everything from mudflaps, tonneau covers, scuff plates, trailer hitches, interior accent lighting and so much more.
ROUGE VALLEY MITSUBISHI'S PRE-ROAD TRIP CHECKLIST
Hitting the road? Here are several maintenance precautions you can take to ensure your road trip adventures stay focused on the FUN instead of the DONE.
CHECK HOSES AND BELTS
Like extreme cold, extreme heat can wreak havoc on vehicles, resulting in cracked and deteriorating hoses and belts. Check hoses for cracks, leaks and loose connections, particularly around higher stress areas near clamps. Belts should not appear overly smooth, have cracks or any sign of layer material separation.


TIRES
We all know that incorrect tire pressure can be extremely dangerous, leading to violent blowouts or worse. Inspect tires for tread wear, bumps and bulges that are often precursors to tire troubles.
TIP: Did you know that winter tires are naturally heavier than summer tires so switching your winter tires over to all-seasons can help boost your fuel economy?
OIL AND OIL FILTERS
Clean oil will ensure your car's engine is running cleanly, smoothly and at its correct temperature. In addition to keeping your oil clean, using the proper viscosity oil as shown in your owner's manual is of utmost importance.


WINDSHEILD WIPERS & FLUID
Winter temperatures, ice and salt can wreak havoc on the rubber blades of your wipers, leaving them less than capable of providing a clean and clear windshield. A new set of wipers along with a fluid top-up will ensure you have optimal visibility when you need it.
BRAKES
Properly functioning brake lines, pads, drums and rotors are all integral to keep your stopping capabilities in order. Squeaks and grinding sounds while applying the brakes could be signs of wear as well as a change in the feel or position of your brake pedal.


COOLANT AND RADIATOR
The heat of summer is brutally hard on your cooling system. Ensure your vehicle's coolant is at its optimal level for a happy radiator and worry-free road trips.
BATTERY
Check that your battery is properly secured in place and that there is no corrosion or sludge/debris on the terminals. Clean terminals ensure that connections are secure.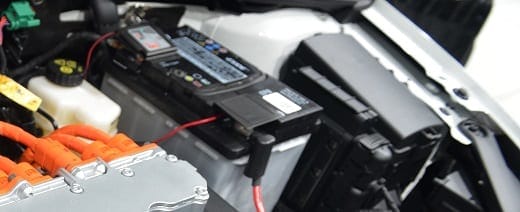 ROADSIDE EMERGENCY KIT CHECKLIST
Emergency flares
Water - both for you and for the radiator in the event of a leak
Jack and tire iron
Tire repair kit
A toolkit with wrenches, ratchets and screwdrivers in common sizes
Jumper cables
Flashlight
Blankets, towels
EMERGENCY ROAD SERVICE - 1-888-576-4878
Roadside Assistance
Should you ever need it, you have access to emergency services, 24 hours a day, 365 days a year, for 5 years, with unlimited kilometres. Covered services include free towing, battery boost, tire service, emergency fuel and fluid delivery, and more.
The Parts Department at Rouge Valley Mitsubishi is always ready to assist you with the parts you require. Properly followed, regular maintenance intervals will help ensure your vehicle's performance, fuel economy and reliability is top-notch. Plus it's a great way to protect your investment! For further convenience, Mitsubishi has created an online Mitsubishi Maintenance Schedule. Use it to help plan your Rouge Valley service!